June 29, 1 – 3 p.m.
The UTSA Institute of Texan Cultures, in association with long-standing hometown video show Robbs MetalWorks plans to deliver a deeper, grassroots presentation as a follow-up to last year's "Heavy Metal Capital of the World" event.
The event will follow the original format, offering stories and history from a panel of San Antonio musicians who helped build the metal scene of the 1980s: Larry Barragan of Helstar, Bobby Jarzombek of Juggernaut, Al Berlanga of Syrus, Buster Grant of Wyzard, Donnie Van Stavern of SA Slayer and Nacho Vara of Byfist,
Robb's MetalWorks personality Robb Chavez will moderate the panel, bringing more than 23 years of interviewing world-wide metal acts to guide the discussion.
Return to the Metal Capital will include a live performance from Byfist, some surprise video guests, and cool prizes and giveaways.
ADMISSION: Adults (18 – 64) $10; seniors (65+), minors (6-17), college students, and military $8; (children 0-5 free), UTSA and Alamo Colleges free.
PURCHASE YOUR TICKETS: CLICK HERE
LET US KNOW YOU'RE COMING ON OUR FB EVENT PAGE: CLICK HERE
Check out some of our cool prizes:
FULL color, glossy 24×36 event flyer posters! The posters WILL be autographed by ALL members of the panel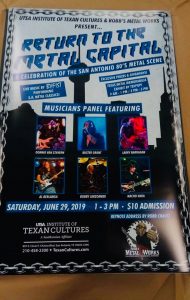 The LP version of the 1987 release from JUGGERNAUT called, 'Trouble Within', autographed by original guitarist, Eddie Katilius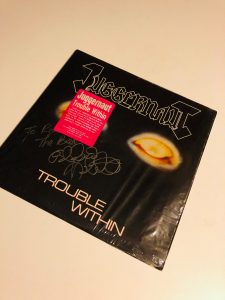 Cassette tape of the band, Wicked Angel!