Meet The Team
|
November 14, 2022
Graeme Martin, Archivist
Martin digitizes content from antiquated storage media
As the archivist assigned to the IMLS grant project, Graeme is digitizing content from antiquated media, produced by the ITC over the past 50 years.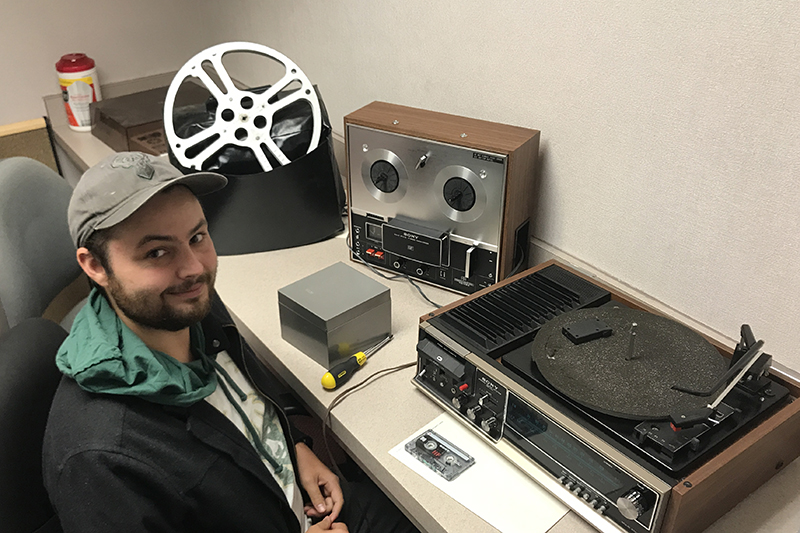 ---
UTSA Libraries Special Collections is happy to welcome Graeme Martin to the team. Thanks to a grant from the Institute of Museum and Library Services (IMLS) Martin's hiring is the first step in beginning an important cataloging and digitization project of historic Institute of Texan Cultures audiovisual materials. Over the next two years, Martin will comb through these materials that were produced by the ITC for classroom and museum instruction, entertainment and more for nearly 50 years.
With a Master of Library Science from UCLA in Media Archival Studies, and additional experience as an audio engineer, he is equipped for the job and excited to work with these historical treasures that give a glimpse into San Antonio and Texas history.
"I am very interested in preserving audiovisual heritage and was interested in having the chance to work with a specific AV collection," he said.
He says the biggest challenge will be facilitating the preservation of obsolete magnetic materials, such as audio cassettes. Considered high-risk, these will need to be digitized likely within the next 10 years. The ITC collection includes audio tapes, U-Matic and Betacam videocassettes, video reels, and 16mm and 35mm motion picture films produced from 1968 to the 2000s.
"We are looking at materials created by the ITC that focus on the many diverse cultures that exist in Texas," Martin said. "It is important to preserve these materials as they may act as a record of under-represented people and cultures in Texas."
There are more than 3,000 multimedia items in the ITC's collection that will require cataloging, and 200 prioritized for digitization. UTSA graduate and undergraduate student assistants from the College of Liberal and Fine arts will aid Martin in the cataloging and rehousing of the collection.
"Graeme brings fantastic credentials to the team," said Amy Rushing, assistant vice provost at UTSA Libraries Special Collections. "The delicate nature of ITC's multimedia collections require preservation and digitization, and we've got a skilled archivist in Graeme, to steward the process."
Martin grew up in South Carolina and most recently lived in Los Angeles as he completed his studies. Outside of the office, he plays video games, rides bikes, and watches basketball and car racing.
Read more about the IMLS Grant.
---