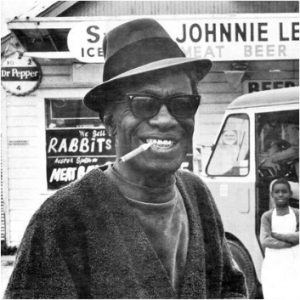 Sharecropping & Blues Music
The harsh realities of life under sharecropping led to an artistic output that would strike a chord far outside the reaches of the farms themselves. Delta blues music, with its origins in the Deep south provides an enduring insight into the lives of African American laborers, and in many cases, a record of the brutal living conditions faced by sharecroppers. Some of the most influential blues records were composed by sharecroppers, with many documenting and responding to the brutal treatment by farm owners like Tom Moore.
Sharecropper's Blues – a playlist
UTSA Libraries' Music Librarian William Glenn created this Spotify playlist to highlight Texas Blues born out of sharecropping.
Mance Lipscomb, Texas Blues Man
In Navasota, one such musician and farmer Mance Lipscomb composed a piece alongside fellow sharecropper Yank Thornton entitled "Tom Moore's Farm." Lipscomb was born in 1895 and lived his entire life in Navastoa, TX, near the site of Tom Moore's farm, where he worked as a sharecropper. Thornton also worked on Moore's farm, and had been collecting verses he wrote about Moore's abuses for years, performing them at dances with fellow farmers but never coalescing them into a song. During his time working at the farm in the 1930s, Lipscomb helped turn the verses into a song, finishing up the lyrics and composing the music on his guitar. Lipscomb's work on the song resulted in storytelling that speaks explicitly of the conditions endured by sharecroppers on Moore's farm.
ITC created a spotlight for Black History Month in February 2021 featuring Lightnin' Hopkins
The earliest recorded version of Mance Lipscomb's song "Tom Moore's Farm" was by fellow Texan musician and farmer Sam "Lightnin'" Hopkins. Released in 1949, Hopkins version charted in Billboard's Most Played Juke Box Race Records. Though Hopkins changed the first name in the song's title from "Tom" to "Tim," Moore and his allies were aware of the song and its depiction of his farm. Fearing a violent response from Moore, Lipscomb didn't perform the song for decades in the East Texas area, and when he did finally record his version, he did so anonymously. Lipsomb died in 1976 and Hopkins followed in 1982, but "Tom Moore's Farm" lives on as a record of their artistry as well as the hardships they faced as sharecroppers.
Lipscomb Archival Footage
This project allowed ITC and UTSA Special Collections to digitize forty-year-old 16mm film. Plans for future projects aim to include researching this footage. While we know the film dates to around 1968, staff will continue to piece more of the story together.
Language in this footage may be considered offensive as well as outdated. Our goal is to make these materials available online for the purposes of transparency and research.