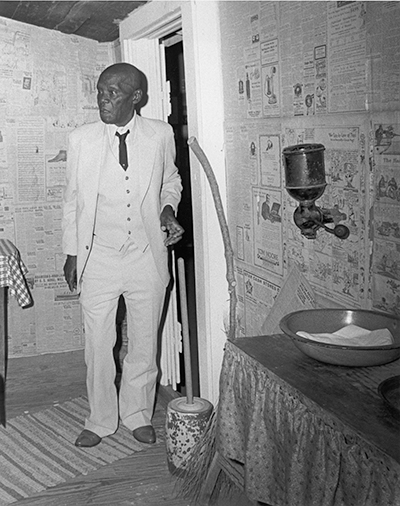 Eugene Bullard was born in 1902. He grew up with his grandparents on a forty-acre farm, where they grew corn, cotton, and tended a large vegetable patch. They also raised chickens, turkeys and a small number of steers. The Bullards' farm produced about two bales of cotton per year (larger commercial farms averaged about one bale per acre). When he was twenty, Eugene began to work as a sharecropper. Anna Mae was born into a sharecropping family in 1910. At the time of their interviews, they lived in Calvert, TX, about fifty miles northeast of Navasota.
The Bullards spoke about their youth, their daily tasks, and their values. They were proud of having worked hard and honestly, and of their self-sufficiency and independence. Eugene had a good relationship with the landowner he worked for, who paid them fairly. The Bullards acknowledged that this was not often the case, and they knew of several farms—Navasota was one example—with rough conditions.
UTSA Special Collections has several transcripts of interviews with the Bullards
They were happy that their stories would contribute to the ITC, especially to its educational programming. They donated several personal items for the exhibit. Joe Graham invited them to the Institute to speak to the staff personally, making sure the cabin was furnished appropriately and that the information and anecdotes were accurate. Eugene and Anna Mae visited the completed exhibit in 1981, and according to an article in the San Antonio Express, they were pleased to see what their stories helped to build.